Particle editor/editing: Part 5: Assets and examples
Part 1: Introduction and Setup
Part 2: Editor Overview
Part 3: Implementing Particles
Part 4: Materials
Part 5: Assets and examples
This final part is in the form of a small asset pack.
Inside this pack includes a small tutorial box map, textures, and new particles as examples of what one can achieve with the particle editor.
I. Particle Room Tutorial Box Map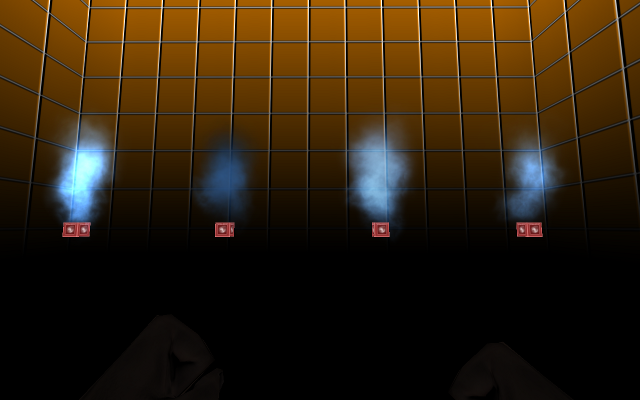 This small room is just to demonstrate particle blending methods. Titled simply "tutorial", it has particles emitters evenly placed with different particles demonstrating the various blend methods you can use for particles. The four you will see directly in front of you when you spawn show how add, blend, (gl_src_alpha, gl_one), and (gl_one, gl_one_minus_src_color) work and differentiate.
To the sides are diffusemap, specularmap, and diffuse+specular+bumpmap (since you can't use bumpmap alone without it looking incorrect) to show how particles can also have depth to them. The light in the room is an ambient light, and lights both diffuse and depth particles just fine, but specular needs light shined onto it directly to be seen.
That is all there is to this little room. You can edit the emitters as you please in edit mode to experiment and learn as you please, but this room was not intended to be very spectacular.
II. Weapons
The most notable feature in this pack are some particle examples. I decided to increase the quality of some of the weapons and re-did all of the particles for the chaingun, plasmagun, and BFG, as well as added a few new particles for them (specific wound particles).
a. Chaingun
Doom 3 has it's own visual style, namely because of the real time lighting and shadowing. Some people complain it looked too much like "plastic". I think it looks more smooth, polished, and rounded than plastic, but the particles are also this way too. This is fine, but I decided to give the chaingun some more realistic particle effects, so I started with the bullet impact.
Instead of chimney black smoke puffs with weak explosions as the typical bullet projectile impact for Doom 3, I wanted something more powerful. I imagine the chaingun firing 25mm or so HE (high-explosive) rounds that are meant to pierce and destroy through explosive force, so on impact I designed it to obviously spark quite a bit, but also be fiery. The impact is quite sudden as well, rather than the typical slow sparks in Doom 3, so it looks very realistic.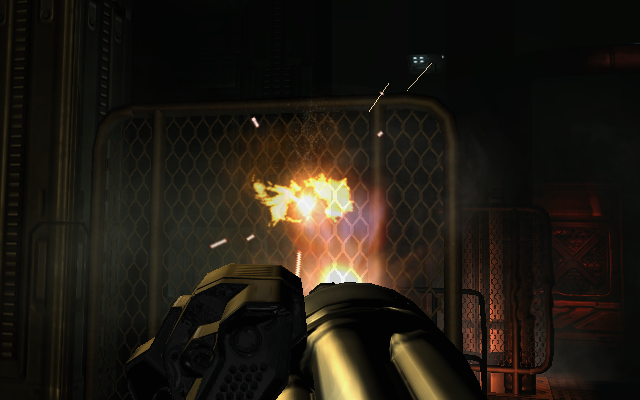 I am quite pleased with this impact effect. I would have variants of this effect for different surfaces, being more dusty when hitting dirt, and less dusty when hitting metal, but since Doom 3 has limited support for this unless you do some SDK work, such as in Denton's Mod. So I had to compromise, which is why it is a bit dusty when it hits metal.
I also gave the chaingun commando this impact effect. Normally, he/it doesn't have one, but I gave the chaingunner one and it looks really nice, especially when he lands a shot on you. If only I could get smoke_wound to work with monsters so you bled when you got hit. I also added impact sound too, because it just doesn't sound right. Other than that, he is the same commando.
There is also a new wound effect. It is not just bloody, but also fiery. You can see that there is a small explosion inside where this round makes a home in, plus it burns and leaves a residue. The blood effect splashes out well with new and old blood particles, plus it leaves a bloody mist for a moment.
The muzzle effect was worked on, and in all honesty, I think it is "okay", but I think it is better than default. The muzzle smoke won't obscure you anymore with black smoke, although it still is a bit smokey. After dealing some damage though, there is some heat effect that floats from the barrel if you pay close attention.
b. Plasmagun
I have modified the plasmagun extensively before, and even uploaded a mod that made it green but I also modified the weapon's characteristics and I shouldn't have done that. Anyone can simply edit that themselves if they wish, but particles take much more work especially if you want them to look nice so here is a very nice face-lift to the plasmagun that I think stays true to the concept of it.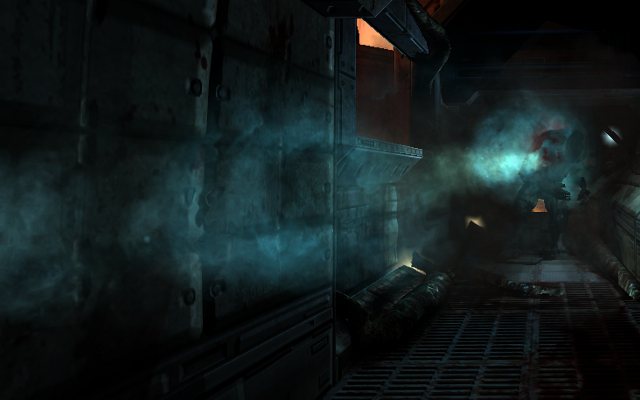 The plasmagun is somewhat particle heavy and the effect that uses the most is the plasma trail. After making it, I really optimized it down to a significant level and it only has 3 stages (the last one being fairly minor imo), but the detail is much higher than the default trail. It still has plasma rings like the original but also has a small teal trail that follows the plasmabolt that burns out. I am very pleased with this.
I replaced the plasma bolt model with a particle system to be it's model, but tried a few failed ideas until I looked at it a bit scientifically. Plasma can be controlled magnetically, and so I thought of a magnetic field and thought using the heatwave distortion fx to make it into an orb would make it look like the plasma was contained in a magnetic ball and that is basically what it is, with a few textures. There isn't much detail to it, since it is obscured from the plasma trail, but the distortion effect is great.
Then there is the impact. I liked the original, in fact I think the plasmagun has pretty solid particles, but there was room for much more detail. When the plasmabolt impacts, it explodes into a ball plasma-shield like orb and throws plasma upward, leaving a plasmic cloud for residue that doesn't brighten terribly much like I have tried before. I could tweak it a little more, but this is essentially done and I am more than happy with the results.
If there is excessive brightening it is because of the decals which probably could be tweaked with.
The plasma wound particle is a new regular blood wound but leaves blue plasma burning a bit where the wound was. It builds up the more you pummel a enemy with plasma. It is more noticeable when an enemy is moving.
c. BFG
The bfg has the most work done on it in terms of time spent and complexity. Many stages were required to make the BFG very elaborate, especially the BFG explosion which is spectacular. I also added a new texture for the bolt beam it emits when it flies to target enemies, the bfg charge flash, and added some extra detail to the BFG model itself (part of it glows).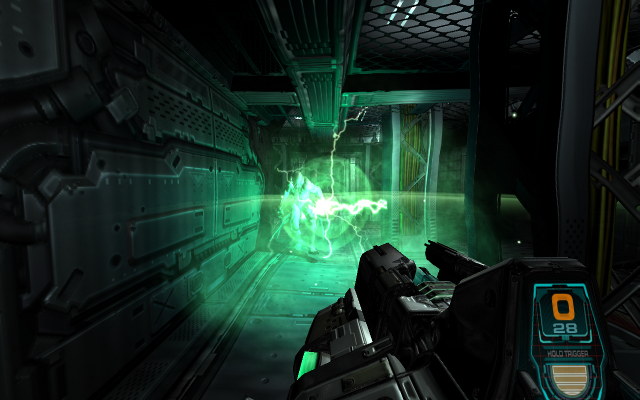 The first effect to be noticed is the bfg muzzle smoke. When you fire the BFG, it will flood the room with a shockwave of green plasma outwards and cloudy plasma towards the floor. There are outward sparks and lightning that is briefly shown at fire, and turbulent cinder that washes around with plasma and heat venting off the barrel after firing.
The BFG bolt originally had a model but is replaced with a particle like the plasmabolt. I used the same idea to make a distorted orb and have a few textures to give it a distinct image and I feel this does the BFG justice, but the main particle effect to the bolt is the trail I added, which is similar to the plasma trail though it doesn't linger quite as longer and follows closer to the bfg bolt. It is also where the main lightning effect is handled.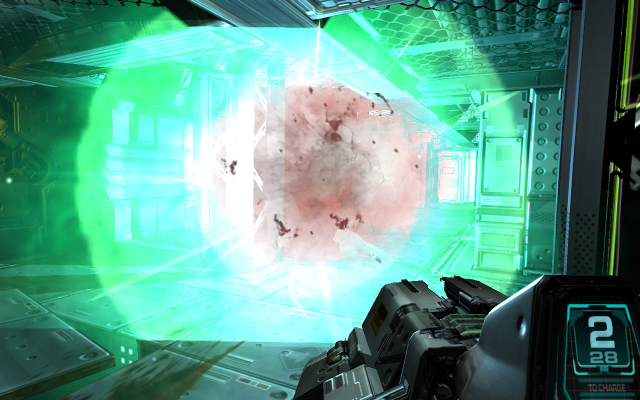 The explosion is quite epic. It explodes with lightning striking and plenty of shockwaves, leaving stary particles behind that fade from teal to blue from the aftermath. It is quite a bit more filling than the original bfg explosion and has way too many stages but it was necessary to achieve the effect.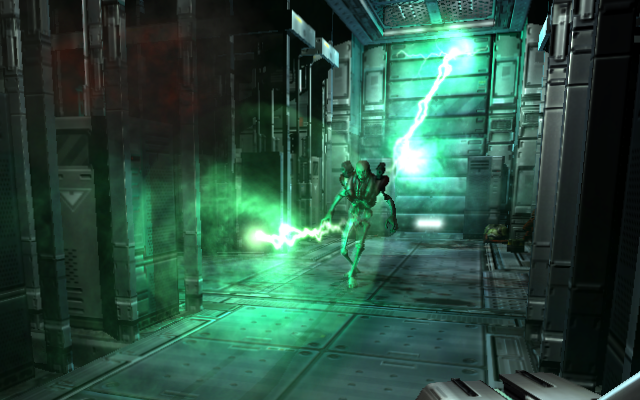 The wound effect has a large blood effect but isn't nearly as bloody as you might think. It happens quickly and suddenly because I wanted to give the impression that it just obliterated the target too much to leave anything to gib. After being devastated by the bfg, enemies will burn off remaining bfg plasma and cinders will emit from them.
The one last particle effect would be the overcharge explosion that happens when you, well, overcharge the bfg and kill yourself. The original wasn't very spectacular, in fact it is very weak but you usually never see it, or only parts of it.
The particle name is "bigexplosion.prt" and I do not know where it is handled in the .def files or elsewhere so I couldn't create a new one to replace it. I had to overwrite it and that is why a copy of explosions.prt is included in the asset pack to make it work. This was just a small touch, because the death view prevents you from really seeing it but you will notice something new now.
d. Other
That concludes particle effects for weapons, but I did add one last effect to demonstrate animation and what you can do yourself simply with free tools like GIMP. I replaced the particle burn away effect for monsters but instead of having a new .def file included to edit each and every monster, I did what I did above and overwrote the particle by packing another copy of patrick2.prt".
Note, there is another version of this burn_imp called burn_imp_large, which is a larger version for large monsters but I didn't alter it. You should be able to move my version of burn_imp over and edit it yourself to your liking with everything shown how in this tutorial (it is not a hard task I just didn't bother doing it).
III. End of Tutorial
There is not much else to say, other than there are some other visual changes such as to decals but all changes can easily be seen in the asset pack. I will be putting my modding days behind me. I do not the time anymore for this, though I really enjoy being able to create and craft things and have them visualized in a semi "real" way in Doom 3.
With that being said, I will still update my guide to correct errors, improve the quality, and add media when I can. I hope you all can learn something from this guide and make excellent particles yourself, and I wouldn't mind seeing someone's work either. Links will be at the bottom and a download for the asset pack will be made available shortly.
Thank you all.
3/17/01
http://www.youtube.com/watch?v=OAkPeRoe-kI
Video of Pack
Particle Asset Pack demo, download
here
.